The Cresus l'Atelier workshop is the new Mecca for watch collectors and enthusiasts in Lyon.
This workshop-shop concept was founded at the end of 2013 and offers customers a showroom space dedicated to gorgeous vintage luxury watches and accessories, as well as a range of watch maintenance and repair services.

Located upstairs from the shop and staffed by 4 passionate technicians, Cresus l'Atelier is the place to go to troubleshoot malfunctions of any kind, to have your mechanical, automatic or quartz watch serviced, to have its case, band or crystal polished or have its water resistance checked.
Our workshop also changes watch batteries, adjusts or replaces watchbands, and places orders for custom watch bracelets.

We are here to help you in giving your watch the care it needs!
Inside the shop, Kateline invites to discover the most beautiful timepieces by top names like Rolex, Jaeger-LeCoultre, Omega, Panerai as well as rare limited edition designs. All of our watches are in very good condition and come with a Cresus parts and labor warranty.
Because the vintage watch area requires particular care, our shop offers you expert advice tailored to your search, helping you to more easily find rare vintage watchmaking gems!

Finally, you can also discover our custom-made leather, rubber or nato watchbands, our motorized single or multi-watch cases, collector's books about the history of the most prestigious watch brands and cult designs, and luxury cufflinks to add a new dimension to your passion for the finest craftsmanship.

A true heaven for all watch enthusiasts, Cresus l'Atelier is also the perfect place to find a one-of-a-kind gift!
Available in Lyon, the Cresus Workshops by Objectif Horlogerie offer you an immersion into the meticulous watchmaking world, in the company of professionals.
Take place behind the workbench, and let you guide !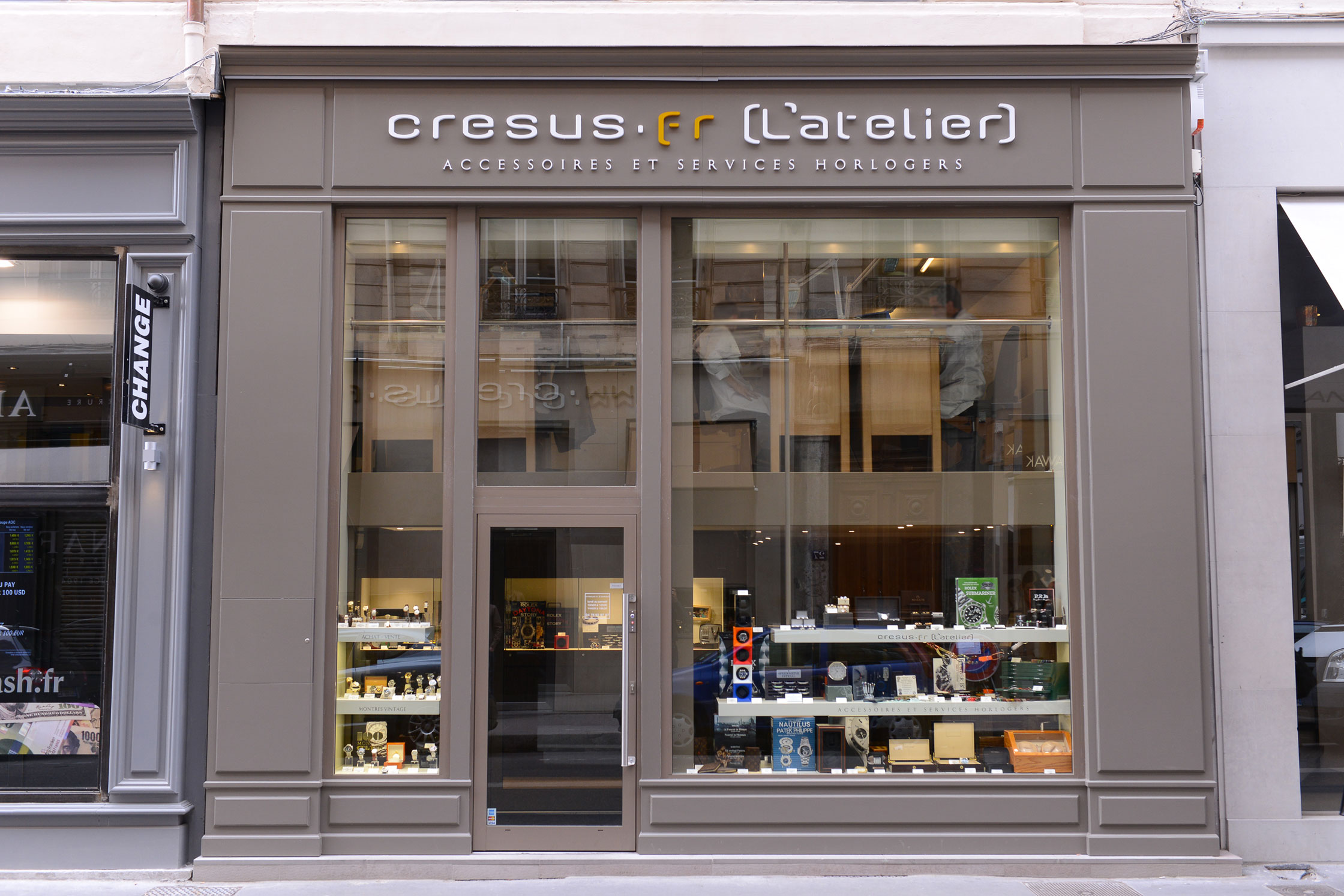 Open Monday to Saturday from 10:00 am to 1 pm and from 2 pm to 6:30pm..
20 rue Gasparin 69002 Lyon
Mailing adresse :
CRESUS
BP 2222
69213 LYON CEDEX 02
Metro station : Bellecour
Parking garage : Bellecour
GPS : 45°45'30"N - 45°45'30"E
Tel: +33 (0)4 78 92 97 97
Fax: +33 (0)4 72 04 04 55
Email:
atelier@cresus.fr