The Watches DateJust
Discover more than 600 prestigious Swiss brands of watches such as Rolex, Jaeger-LeCoultre, IWC, Patek ... Cresus guarantees the authenticity and traceability of second hand watches at the best price.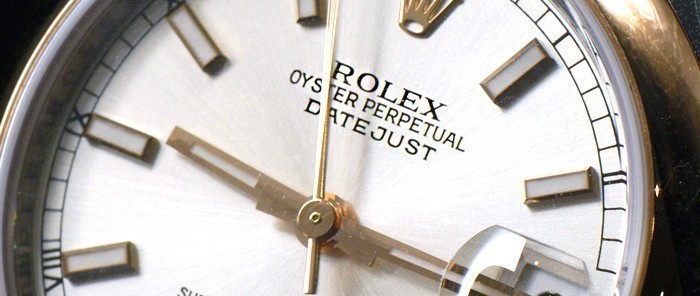 Discovering the history of the Rolex DateJust watch, an outstanding timepiece
Created more than 70 years ago, the DateJust watch remains exceptionally popular and envied. With it's Cyclope lens and it's Jubilé bracelet, this exceptional timepiece has created assets from it's differences. Legendary watch, the Rolex DateJust has made it's footprint in the history of watchmaking, without ceasing to reinvent itself as the time passes by.
Focus on this unique collection's history.
Rolex DateJust, the history of a pioneering watch
The history of the DateJust watch starts in 1945, during the 40th anniversary of Rolex. The notorious Swiss watchmaker was willing to revolutionize the watchmaking world. To achieve this, he created the first wristwatch with a date display functionality: the DateJust. It was very innovative in a way that it was actually the first waterproof wristwatch chronometer that was working with this particular self-winding mecanism. Regarding the original functioning, the DateJust mechanism is making a full rotation at midnight in order to move to the next day. At the time, the original model was only available in 18-carat gold. It was delivered in a waterproof Oyster case, alongside a fluted bezel and the inevitable Jubilé bracelet. All these distinctive elements made the Rolex DateJust watch easily recognizable.
Evolving with time, this pioneering timepiece evolved thoughout the years, while keeping all the technical characteristics that made it successful. For example, in 1954, the swiss model has adopted the famous Cyclop lens. In order to interest a more female audience, this collection is available in smaller and thinner models as early as 1957. Named Lady DateJust, this whole new series offers a more elegant and refined design. In 2009, almost 65 years after it's initial creation, the DateJust range expanded with new models with a diameter of 41mm. Named the DateJust II, this new series has gained a redesigned mechanism and an Oyster bracelet. Then, in 2016, Rolex continued to make profit from the DateJust family, which has become one of it's flagship ranges of watches, by releasing a new model again, the DateJust 41. Recapturing features and dimensions of the Datejust II, it has a thinner bezel. So many innovations and transformations have allowed the Rolex DateJust watches to go through the ages and become outstanding pieces that are particularly sought-after.
Rolex DateJust, the iconic watch
The Rolex DateJust range seduces with it's elegance and luxury. This collection has dressed the wrists of many famous men and women. In the movie industry, this timepiece made it's footprint as the iconic watch in movies like The Informers, but also American Psycho. Actors like Paul Newman in The Color of Money and Bill Murray in Lost in Translation allowed the DateJust to appear on screen. But above all, it's performance in extreme environments allowed this wristwatch to deserve a reputation for excellence. Thus, in 1955, a DateJust is offered to US Air Force pilots who were coming back from their flight missions. It's not surprising that Chuck Yeager, a well-known pilot, passed the sound barrier for the first time in 1947, with a DateJust on his wrist. According to the legend, this model was the starting point of the Rolex Explorer invention, the watch that Sir Edmund Hillary was wearing when he climbed Mount Everest for the first time. Interestingly enough, both Bill Clinton and Ronald Reagan wore a DateJust watch during their terms in office. Other historical personalities including Eisenhower, Churchill or even Adenauer has received this model as a gift by the Swiss manufacturer.
Rolex DateJust, a legendary watch for countless forms
If the Rolex DateJust has become an exceptional watch, it's notably thanks to it's several ranges. The first one is the case box, available in several dimensions: from 36 mm to 41 mm for male models and 26 mm to 31 mm for female models. Concerning the design, this collection offers some sober and classical models equipped, for example, with a fluted bezel or Roman numerals. Other models, much more prestigious, are available with diamonds set on the bezel or even on the dial itself. Rolex's position here is to favor high-end materials. Thus, classical models usually are 18 karat gold, available in yellow, pink or white gold. Other more unusual models don't hesitate to mix materials, like solid gold and steel. Unlike other Rolex watches, the DateJust has been remodeled countless times. Therefore, we can find more feminine versions with diamonds, as well as more masculine models in stainless steel, equipped with an Oyster bracelet or even two-tone models associating two different types of gold. The dial has been remodelled too: it is sometimes a sober dial with a creamy or golden color and sometimes imaginative with it's chocolate, grey, pink or even floral shades.
Rolex DateJust: stature and performances
All Rolex DateJust watches are equipped with manual-winding calibres. Following the first model released in 1945, they still feature the date display functionality. Depending on the size of the dial, DateJust watches are supplied with a different winding. Consequently, 36mm models feature the Rolex 3135 calibre whereas 4133 models are built with the Rolex 3136 calibre. Thanks to the PARACHROM technique, the winding of this collection become more accurate and efficient. It is known for not being sensitive to temperature fluctuations or magnetic fields. Another particularity on this collection refers to it's winding, which can be calibrated manually, with the help of a provided tool supplied by the Rolex brand. As famous people who have worn the Rolex DateJust have shown, this watch can manage all situations, including the most extreme. Among other things, this watch is able to resist water up to 100 meters, thanks to it's Twinlock crown and it's screwed back. It is also extremely solid, with it's scratch-resistant sapphire glass. As for the DateJust calibres built by the Swiss watchmaker, they are well-recognized for their high precision and puncture-proof reliability. We can easily understand why this luxurious and notorious watch is worn by dynamic and sport enthusiast men and women alike, such as tennis players, pilots, race car drivers and golfers too. Regarded as one of the more gorgeous watches of the last century, the DateJust has gained it's ageless status. Adorning a chic and sober design, this watch manages to go through the ages and still stay unique, both for it's style and quality. Always easily recognizable, this collection is known for being timeless…what an irony for a timepiece.
What needs to be remembered about Rolex DateJust watches
Rolex DateJust watches are meant to be unique. For further understanding of it's attributes and prosperity of the watches in this collection, keep in mind the following characteristics that make it so different from the all the others: a wide range of dials in multiple sizes : from 26 mm to 31 mm for the lady versions and from 36 mm to 41 mm for the men; valuable materials : yellow-gold, white gold, pink gold, 18-carat gold, diamonds, etc. pioneering functionalities : date display, Cyclope lens, etc. – quality performances : waterproof up to 100 meters, scratch-resistant glass, precision movement and chronometric certificate delivered by the COSC organization; - DateJust watches are available with a huge range of variants, allowing people to find the perfect model, a timeless design: time-resistant, the DateJust has gone through the ages to be as young and fresh as ever; - a luxury model, as celebrities have proven by proudly wearing this watch, this model is about power and elegance; - a value that regularly increases : for example between 1995 and 2015, the average price of a Rolex DateJust has grown over 180% for the solid gold model.
Much more than an average watch, the DateJust has confirmed it's legendary timepiece status. After revolutionizing the watchmaking world, both by it's style and by it's functionalities, it has managed to be seductive in the eyes of many celebrities. From sporty people to business men and women, this collection is dressing a very large audience seeking plain and sophisticated elegance. Both elegant and timeless, this collection designed for the first time in 1945 by Rolex managed to navigate through the ages. Built in multiple versions, this thousand-face range enlarges the benefits and differences. Good-looking, ageless, innovative, performance… so many valuable terms that apply to the DateJust. Proof of their success for several decades now, the watches of this range have seen their rating continuously climb. Undoubtedly, the Rolex DateJust has many raisons to influence and follow you in your daily life.
We also invite you to discover other iconic Rolex models such as the Rolex Day-Date or the Rolex Oyster Perpetual.
Discover more than 600 prestigious Swiss brands of watches such as Rolex, Jaeger-LeCoultre, IWC, Patek ... Cresus guarantees the authenticity and traceability of second hand watches at the best price.
Filters Close
Available at

Available at

Original documents

Original documents

Dial (dominant color)

Dial (dominant color)