The Watches Portugaise
Discover more than 600 prestigious Swiss brands of watches such as Rolex, Jaeger-LeCoultre, IWC, Patek ... Cresus guarantees the authenticity and traceability of second hand watches at the best price.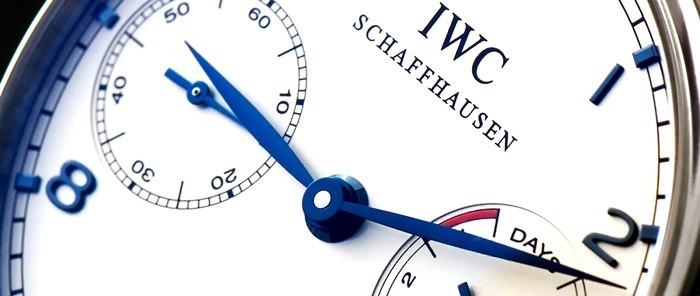 IWC Portuguese: a timepiece inspired by the navy
Innovative when they were launched in 1930, the IWC Portuguese watch still remains a reference in the world of fine watchmaking.
Commissioned at the end of the 1930s by two Portuguese traders, IWC Portugieser watches revolutionized the world of fine watchmaking. With its imposing dimensions, light years away from the fashion standards of times, and it's very high-precision movements inspired by the chronometers used in the navy, these timepieces have always been way ahead of their time. A great opportunity for us to trace the history of this well-known wristwatch and to discover its finest variations.
IWC Portuguese, pioneering watches.
The story began in 1939 when two Portuguese merchants, Teixeira and Rodriguez, ordered an uncommon watch to IWC. The two companions wanted a wristwatch that was as precise as a navy chronometer. Yet, no one ever asked for this at the time for a simple reason: navy chronometers movements were far too unwieldy. Despite this issue, IWC decided to take-on the challenge. The Swiss manufacturer chose to include a fob watch movement, the calibre 74, inside a large case of 42 mm. It was a revolution at the time because the tendency was too thin and rectangular-shaped watches, inspired by the Art Deco fashion wave. The other particularity of this model is to have a winding mechanism crown, positioned on the right side of the dial. Even though this timepiece didn't possess a name back then, it marked the first steps of the IWC Portuguese.
In the forties, this large wristwatch of 42 mm was still ahead of its time, both in technicality and aesthetisc. First, this wristwatch pushed back limits of time accuracy thanks to it's calibre that was containing a much more imposing balance. From it's roundness and it's massive dial, this first Portuguese watch brought a stylish renewal into the world of watchmaking. Although it took a heavy toll for its eccentricity. In fact, until 1980's, the production is limited to a hundred copies, due to it's unusual design, unseen at the time. Finally, in 1993, the watch regained its fans and proudly proclaimed itself IWC Portugieser, or Portuguese in English.
This model owes its revival to a limited edition of the same name (reference 5441), launched in 1993 for the 125th anniversary of IWC. Both it's movement and it's design were unseen and thus started a new watchmaking movement that many watchmakers took as a model. During the following years, IWC watches continued their world watch conquest, while improving itself thanks to continuous efficient complications.
IWC Portuguese, a timepiece that continuously reinvent itself.
From the middle of the 1900s, IWC Portuguese watches became the best-sellers of the Swiss manufacturer, as well as the Pilot or the Portofino models. For the 75th anniversary of this exceptional luxury watch, IWC decided to reinvent its flagship model by releasing an even more advanced version. This date is notably the starting point of the Portuguese Perpetual Calendar commercialization, a model that features an annual calendar as a complication. This chronographer displays, through three separate windows, the month, the date and the day, all at once. But the major innovation laid in a new movement, built in four different models: the manufactured calibre 52000.
In addition to using internal ceramic components, this calibre offers even greater accuracy and 7 days of power reserve. Besides the Portuguese Perpetual Calendar, the IWC Portuguese "75th Anniversary" is equipped with this new movement.
IWC Portuguese: a thousand-sided legendary chronograph
In over 75 years of existence, IWC Portugieser watches have largely evolved. One of the most beautiful collections of this range is certainly the Portugieser Sidérale Scafusia. Considered as one of the most advanced chronographs of the Swiss watchmaker, this wristwatch was designed for 10 years, according to the legend. It claims its difference with it's steady-state tourbillon and it's massive 96-hour power reserve, it truly stands out by displaying sidereal time. Used by astronomers as a time scale, this information allows, for example, to find the same star from night to night. In addition to the sidereal time, the Scafusia also displays the standard time and features a small hand that indicates when the hand winding movement 94900 must be winded. At the back of its dial, the IWC Portuguese Sidérale Scafusia also features a starry map, allowing its owner to locate himself, geographically. Concerning the design, this extraordinary watch features a 46 mm in diameter case, an alligator leather bracelet and is available in several colours: pink gold, white gold and platinum.
It would be hard not to mention the IWC Portuguese Yacht Club Chronograph watches as well. Considered as the sportiest model of the manufacturer, it possesses movement 89361. In addition to being waterproof up to 6 bars, this chronograph offers the flyback functionality and contains an index, as well as luminescent hands. All of these features make it suitable and ideal for diving. Available in stainless steel and pink gold, with a silver or slate dial, the Portuguese Yacht Club Chronograph is truly unique within the range. Launched in 2004, the IWC Portuguese Automatic appears to be the most elegant in this collection. Both simple and precise thanks to it's calibre 52010, this wristwatch is a vibrant tribute to the original Portuguese model. It's sober dial, ceramic components, two barrels providing a seven-day power reserve and clean lines, all contribute to the charm and performance of this exceptional chronograph. Delivered with a 42.3 mm diameter case, IWC Portuguese Automatic watches are available in stainless steel and 18-carat pick gold.
In the IWC Portugieser collection, there are other exceptional models worth mentioning. We can think of the Portuguese Grande Complication, known for its highly sophisticated calibre. We can also mention IWC Portuguese Tourbillon watches, whose tourbillon is included within the dial itself.
Also discover other famous IWC models, such as the pre-owned Portofino watches and pre-owned Aquatimer watches
Discover more than 600 prestigious Swiss brands of watches such as Rolex, Jaeger-LeCoultre, IWC, Patek ... Cresus guarantees the authenticity and traceability of second hand watches at the best price.
Available at

Available at

Original documents

Original documents

Dial (dominant color)

Dial (dominant color)